It's the eternal dilemma: You want to wear sweatpants to be comfortable on your long trip, but you also want to look presentable (and avoid judgmental stares) when you arrive. Well, problem solved. Here are 11 soft, packable pieces, from shirts to shoes, that are the answer to your travel wardrobe prayers.
Travel Clothes
Seven To Seven Skinny Pant
Ever seen a doctor rocking scrubs while running errands and thought about how great it must be to wear something so comfortable to work every day? That's the idea behind the Seven to Seven brand. Created by a doctor, the clothing mimics the feel and functionality of scrubs, yet looks like regular street apparel. The Skinny Pant is part of the Travelers line, and it's made from a cozy nylon/rayon/spandex blend. The elastic back and flat front make it comfortable for long periods of sitting, and the back pockets give you plenty of places to store your stuff.
Bluff Works Pants
Who wants to worry about ironing on vacation? Not Stefan Loble, the founder of Bluff Works, a company that makes the perfect travel pants for men. Bluff Works pants feature a discreet side cellphone pocket (so you don't sit on your phone), hidden zippered security pockets in both front and back, and extra deep zippered pockets on the seat.
The fabric is breathable and very quick-drying. Best of all, you can machine wash the Bluff Works pants and wear them as soon as they're dry—the wrinkle-free material doesn't need an iron. And you don't need to wash them too often: The stain- and odor-resistant fabric allows you to wear these pants for five days straight before they get too gross. Best of all, the Bluff Works look like regular dress pants, so you can rock them in a board room, on a date, or on a hike.
Meeshine Bohemia Flip Flops
Perfect for cruises, road trips, or summer city breaks, the Meeshine Bohemia Flip Flops sandals offer cushioning and support, as well as a fashionable look. The Diamond Flex soles and memory foam insole provide a super comfortable step.
Rockport Encounter
Need a shoe that will work for business casual events, yet is comfortable and hardy enough for lots of walking? The Rockport Encounter looks professional but has tons of built-in features that are good for your feet. A padded collar and tongue help prevent blisters. A cushioned heel pad and a dynamic suspension system on the bottom of the footbed offer cushioning and support. More cushioning in the midsole reduces foot and leg fatigue. And a water-resistant lining keeps you dry.
Aviator Comfort Skinny Jeans
These pants are the closest you can get to pajamas without wearing pajama jeans. The Aviator Comfort Skinny Jeans feels like the leggings you'd wear to work out, but it looks like a pair jeans. The elastic waistband and lack of buttons and zippers mean you can wear these jeans on long plane rides comfortably; and thanks to the breathable fabric, they'll work great on the ground in hotter climates.
La Libertad Merino Wool Shirt
The La Libertad shirt is the perfect button-down shirt for travel. It's made from a responsive Merino wool fabric, which keeps you warm on the plane without adding extra weight. The fabric is also odor- and wrinkle-resistant.
Scottevest Button-Down Shirt
Look polished on the outside, but carry whatever you need in six hidden pockets with this Button-Down Shirt from SCOTTeVEST. It's machine washable, wrinkle-resistant, and 100 percent cotton.
Yoyo Softshell Pants

These pants look like classic trousers but are actually hiking pants. The Yoyo Softshell pants are lined with polar fleece fabric that moves with your body. The pants are waterproof, windproof, quick-drying, and UV-protective.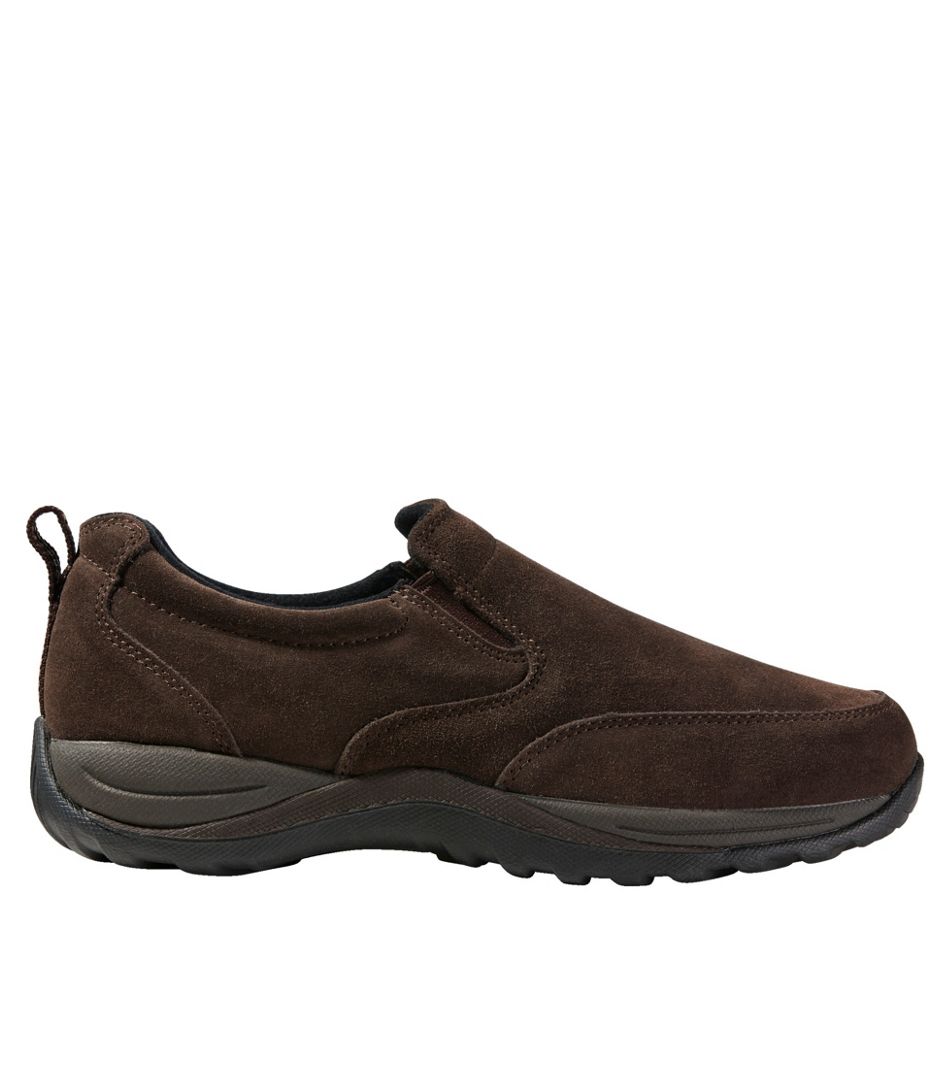 L.L. Bean Grand Lake Venetian
Slip-on shoes like the L.L. Bean Grand Lake Venetian are perfect for the airport security line. The footbed is cushioned and supportive, and the rubber outsole gives you firm footing, even in the rain.
Aetrex Erica Ballet Flat
Ballet flats promised to save women from painful heels, but they created a whole host of other problems. The Aetrex Erica Ballet Flat solves these issues by offering plenty of support. It comes with removable Lynco orthotic footbeds, which help with balance and alignment, and have memory foam cushioning for comfort and a PU outsole for shock absorption. Travelers will love the Erica's anti-microbial technology, which prevents fungi, bacteria, and odors.
More from SmarterTravel:
Editor's note: This story was originally published in 2015. It has been updated to reflect the most current information.
We hand-pick everything we recommend and select items through testing and reviews. Some products are sent to us free of charge with no incentive to offer a favorable review. We offer our unbiased opinions and do not accept compensation to review products. All items are in stock and prices are accurate at the time of publication. If you buy something through our links, we may earn a commission.